LED Technology
To Deliver Performance & Choice
ELEMENT engineers are constantly working with the latest technologies to deliver LED illumination with a longer life, less energy consumption, greater light output, and minimal color shift or degradation. As LED technology advances and lighting designers become more discerning and demanding ELEMENT fixtures are continually updated with cutting edge options and quality.
Choice of lumen output to create ideal lighting designs appropriate to an environment
Max Output: 3572 lumens
Multiple CCT static white light options, 2-step MacAdam ellipses standard to ensure consistency fixture to fixture
Warm Color Dimming to mimic traditional incandescent dimming, including solutions that follow the black body curve
Multiple CRI options for accurate and consistent color rendering appropriate to an environment
Multiple Driver options to meet numerous dimming protocols including premium Triac/ELV dimming down to 1% standard
Agnostic fixture design accepts a wide variety of LED Module options: Xicato, Xicato Artist Series, Citizen Static White and Warm Color Dimming
Long Life LEDs: L70 - 50,000 Hours as our minimum
Led Lamping
To Meet Exacting Performance Criteria
ELEMENT Downlight platforms were specifically designed to offer specifiers a variety of LED solutions. The innovative ELEMENT design allows our downlight series to maintain an LED agnostic platform, easily adapting to today's most relevant LED offerings as well as new LED technologies as they are developed in the future. This flexibility empowers the design community to select an LED solution that best fits the design criteria and performance preferences for a given project, while maintaining the specifier's confidence in ELEMENT's thoughtful engineering and aesthetic appeal. Today ELEMENT offers a variety of LED modules, each with a distinct set of features and benefits.
Warm Dim
Element 2", 3", & 4"
Best in Class Output and Efficacy
Dimmable with a variety of different dimming protocols, including Triac/ELV
Reminiscent of the warm dim glow of a traditional incandescent source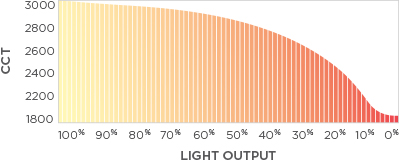 XICATO FEATURING COLD PHOSPHOR
(ELEMENT 3" & 4")
Premium quality of light maintained over time
Artist Series with 95+ CRI when color quality matters most
1x2 step color consistency
TM-30 color fidelity (Rf) 96
TM-30 color gamut (Rg) 103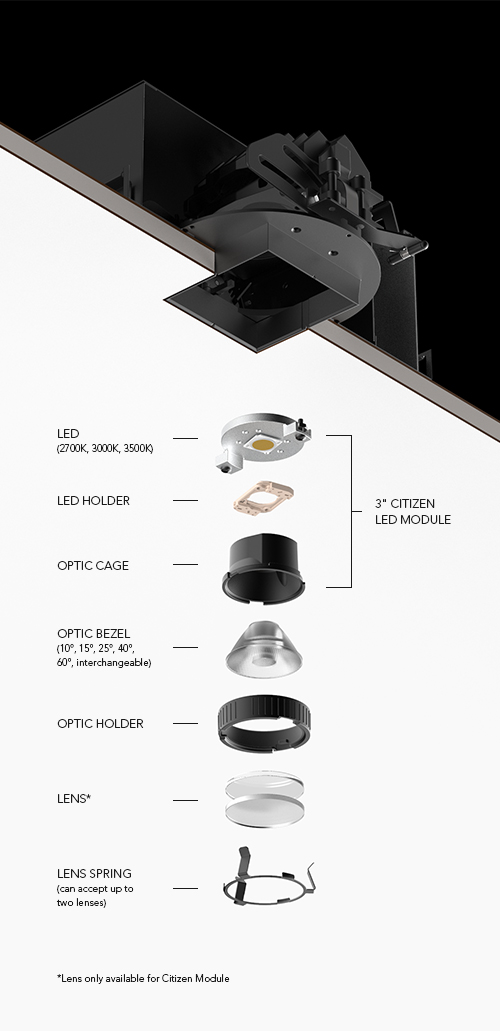 DIMMING OPTIONS
Controls are becoming an increasingly integral part of design, allowing precision light layering that supports circadian rhythm, mood setting or dramatic effects. With an increased focus on quality of light and energy consumption, ELEMENT offers a variety of solutions for even the most discerning dimming needs. The list below is the full range of dimming protocols offered throughout the ELEMENT line of recessed products. Consult product specification sheets for specific dimming protocols available for the wide variety of housing configurations for applicable protocols.
Triac/ELV standard 1%
0-10V standard 5%
eldoLED 0-10V 1.0%
eldoLED 0-10V 0.1%
eldoLED Dali 0.1%
DMX
Lutron Hi-lume Ecosystem Fade-to-Black 0.1%
Lutron Line-voltage PWM 1.0%
DOWNLIGHT MODULES SELECTION GUIDE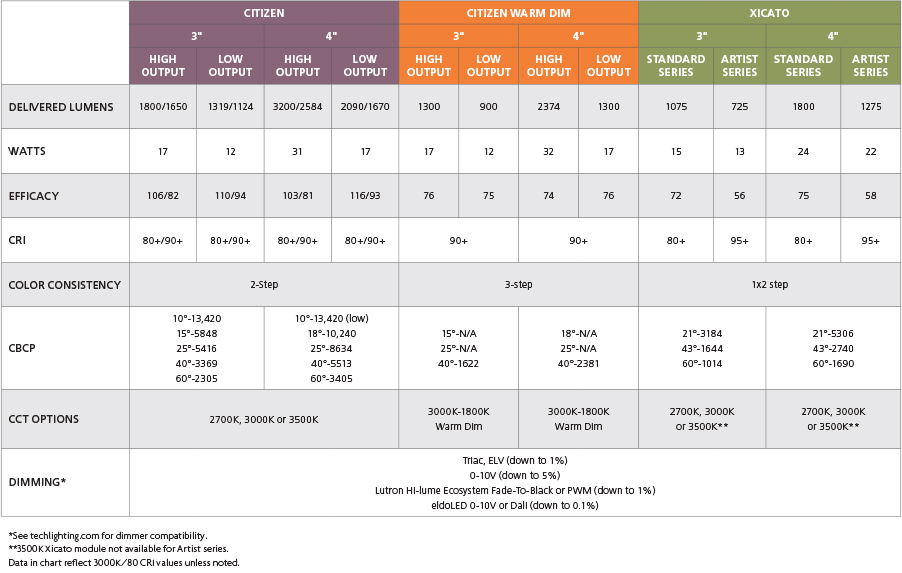 OPTICS
Tir optical control
ELEMENT typically utilizes precision TIR optics which capitalize on characteristics unique to LEDs. Custom designed precision TIR optics were developed to optimize light performance and beam control by directing light from the Light Emitting Surface (LES) to the TIR's internal reflector design which creates a tightly controlled beam. Micro optic "pillows," unique to ELEMENT, are utilized to ensure the beam is clean, smooth and defined. ELEMENT TIR optical controls allow optimized efficacy, beam shape and lux-on-target to deliver a superior experience.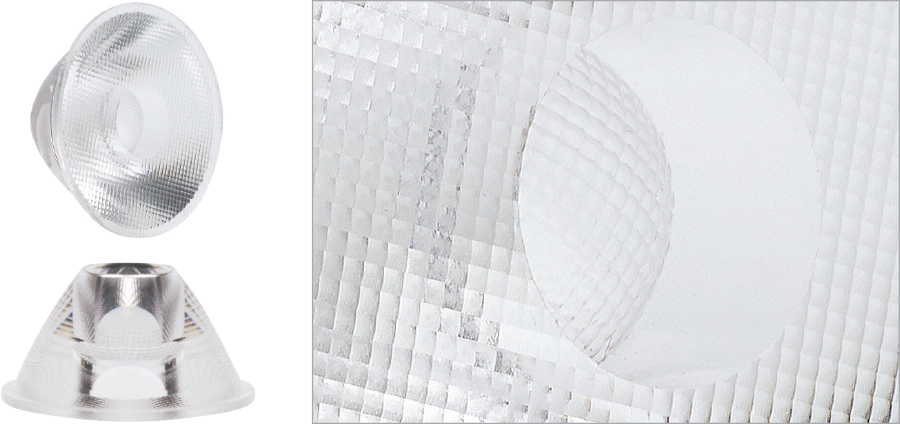 BEAM SPREADS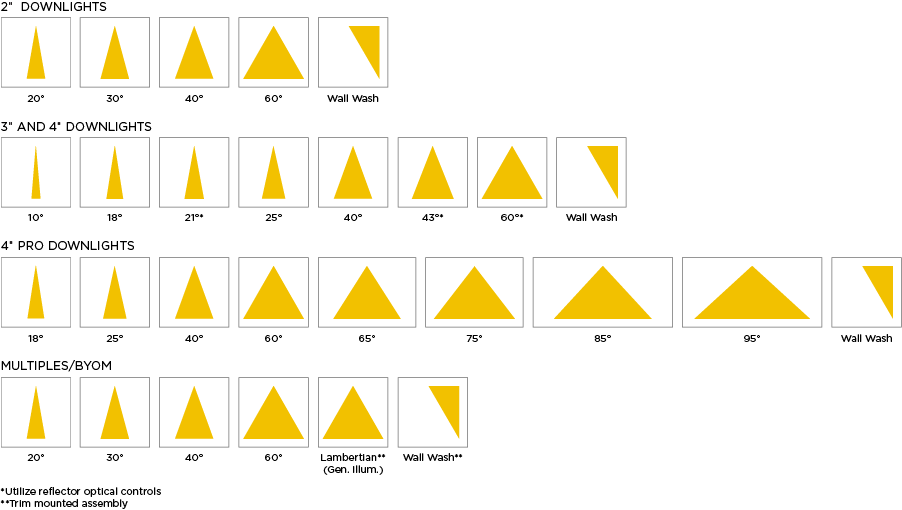 Color Consistency
ELEMENT fixtures offer a range of static white CCT's, as well as warm color dimming and programmable white options, with 2-step MacAdam ellipses standard to maintain consistency fixture to fixture. 80+ to 95+ CRI options deliver accurate and consistent color rendering to meet all needs.